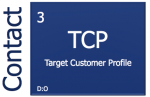 For our outbound/outreach efforts (we call on people in companies where we know we add value, but they may not know we exist… yet), preparing the Target Customer Profile ("TCP") is a strategic move to get the outbound pipeline machine humming.
You blend together everything you know about your customer, or your wanna-be-customer and create a profile.   If you have more than one product or service you sell, you might want to consider preparing separate TCPs for each product/service because you may have different customers loving different sets of your stuff.
By targeting customers who you feel are the best fit for you, the TCP helps you discriminate who you want to spend time on [that is, highest value clients with highest probability of closing] during your outreach prospecting.
As one of my CEO's recently said, "The cool thing about the TCP is that we quickly discovered our sweet spot morphed into an entirely different profile.  It turns out our Ideal Customer spends 10-times more with us per month".
Wow wow wow!  Great way to make your numbers, yes?
4 Steps to Improve Your TCP
 Step 1
Take out your TCP and review it against these 8 data points you've been tracking:

current opportunities
current clients (higher revenue producing)
sales cycle timeline (fastest closing)
decision process
decision makers (titles, pain points that resonated with each decision maker)
regulatory/compliance changes
competitor changes
outliers

 Step 2
Make adjustments to your TCP
 Step 3
Update your outreach prospecting list with "revised TCP" candidates and mark a way to distinguish between this newly created/revised TCP list against your original TCP list
 Step 4
Create an A/B test for your next campaign to test your new profile. Here you're testing how the original TCP profile (A) performs against the newly created/revised TCP profile (B).
If you're like our client, you'll be so happy you went through this exercise.