Note from Marylou: Here's how I helped my first client, HyperQuality, triple their results in 90 days.
A Problem With Inbound Inquiries
HyperQuality, Inc., a Seattle-based contact center quality assurance solution provider, has been around for 10+ years, with customers such as Barclays, Sirius FM, Carlson Travel, AT&T, Orkin, Vonage, and Travelocity.  Customers subscribe to their service for $100,000 to $1+ million per year, so every high-quality lead matters, and they used to be hard to generate.
Until they met Marylou, HyperQuality got most of their leads from inbound inquiries from people who e-mailed, filled out forms on their website, or called their 800 number.  While the flow of inbound inquiries was consistent, thanks largely to the efforts they made in their search engine optimization ("SEO") and pay-per-click ("PPC") programs, too many of the inquiries were low quality leads that didn't fit HyperQuality's qualification criteria.  Some common reasons included:
Budget: There was no defined budget or the budget was far too small.
Authority: The decision maker had no idea that someone lower-level in their organization was doing research, and had no intention of becoming involved.
Need: The inbound lead didn't have a recognized problem, they were just "looking around".
Timing: The inquiry had no timeframe, or the timing was too far in the future to be serious.
Fit: The inquiry needed a service or product that HyperQuality's didn't provide.
HyperQuality generated 1-2 inbound leads per month that passed their rigorous qualification standards. To meet their growth targets, they needed a drastic increase in pipeline. The quota-carrying Account Executives (AEs) also qualified leads coming in from the website, which meant they spent a lot of expensive time following up on inquiries that went nowhere.
Stop Doing More Of What Doesn't Work
Bob Kelly, Senior Vice President of Sales & Marketing at HyperQuality, knew he needed a better way to fill the pipeline for his sales team. He brought in Marylou Tyler to implement the Cold Calling 2.0 outbound sales process.
Under Bob's leadership and commitment to the change, his sales teams completely embraced this "new" way of prospecting, including:
Creating a new, dedicated outbound sales development role focused 100% on outbound prospecting.
Never making another cold call again, and instead using a cold email contact process to easily get referrals to decision makers at accounts.
The AEs focused on their live pipeline, closing deals and only prospecting to a small number of strategic accounts.
Companies must make these kinds of changes in order to create a highly effective outbound sales team.
Testing & Refining
Bob and the team met weekly with Marylou to review the progress of the new initiative. Each week, the first topic discussed on the company-wide sales agenda was the new outbound pipeline process, reviewing metrics such as:
Email response rates (usually 7-10%)
What e-mails are companies responding to, and why
Who is responding (title, position of authority)
Number of meaningful conversation completed
Who became a qualified opportunity, and why
Refinements to the Target Customer Profile (which was revised many, many times)
With this consistent focus on making the new process work (and following the step-by-step process to the letter), the team began to get responses from targeted accounts in days and a flow of high-level appointments in weeks.
The Pipeline Tripled Like "Magic"
Within 90 days, HyperQuality went from generating two leads to eight per month that fit HyperQuality's strict criteria…and this was just with part-time prospecting work by one person: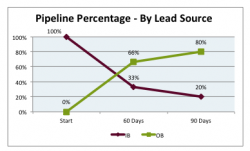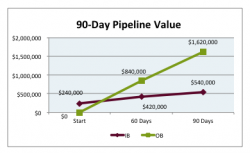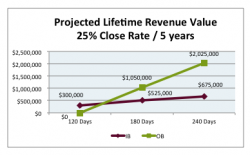 The process and Marylou's help was called "magic" by the sales team!
Just like HyperQuality, companies that implement the Strategic Pipeline outbound process can turn pipeline generation off-and-on like a faucet, by changing the number of dedicated outbound prospectors on the team and how much outreach they do, and create an ability to penetrate new industries or geographic markets at will.